Would You Kindly Celebrate 10 Years of BioShock With Us?
10 Years ago today, it started with a plane crash in the North Atlantic Ocean. A lighthouse. A man. A city under the sea.
In the decade since that first bathysphere ride 18 fathoms under the sea, your support has blown us away. From the stories you've shared to the fan art you've created to the insanely creative, intricate and detailed cosplay projects you concocted – your passion humbles us even now. For that alone, we owe the whole BioShock community our thanks.
So, as we celebrate 10 years of BioShock games, we want you to be a part of it. We're kicking this off with a special BioShock 10th Anniversary Collector's Edition for the fans, featuring a new iconic Big Daddy and Little Sister statue, and are hosting a 10-year anniversary party at PAX West where everyone is invited. From there, we'll continue to celebrate throughout the year with you.
Here's a quick rundown of what you can look forward to in the near future and a teaser of what's to come.
PAX WEST BIOSHOCK CELEBRATION WITH IGN
Event: BioShock 10th Anniversary: Return to Rapture
Date: Saturday, Sept. 2 - 9:00 pm-12:00 am PT
Location: The Great Hall at Union Station, Seattle
Details: bioshock10.eventbrite.com
The best way to celebrate BioShock is with our fans – and we couldn't think of a better place to start than with an awesome BioShock party at PAX West – dubbed Return to Rapture – hosted with our friends at IGN.
Join us as we bring Rapture to life like never before, complete with Splicers, Big Daddies and Little Sisters, themed food and drinks worthy of Rapture's finest hotspots, plus music from DJ Kristina Childs.
We're also hosting the ultimate BioShock Cosplay Contest, complete with amazing prizes, so be sure to don your sharpest BioShock looks and ready your runway walk.
You don't need a PAX ticket to attend – this massive fan celebration is open to the public, so whether you're planning to attend the convention or just happen to be in the Seattle area, join us for what's sure to be an unforgettable evening for anyone who loves BioShock.
To RSVP and for full details of the night's festivities, head here.
BIOSHOCK 10TH ANNIVERSARY COLLECTOR'S EDITION
Pre-order Date: Today
Release Date: 11/14 (US Only)
Availability: GameStop, 2K Store
For you hardcore fans, we've assembled the BioShock 10th Anniversary Collector's Edition. Available for pre-order today, this special release is exclusive to GameStop (PS4, Xbox One) and the 2K Store (US only) for Xbox One and PS4. Included in the box is a copy of BioShock: The Collection and a huge collectible Big Daddy and Little Sister statue.
The 11.9-inch high statue, modeled after the original game's iconic box art, features a motorized drill and light-up components as well as Big Daddy and Little Sister audio clips from the game.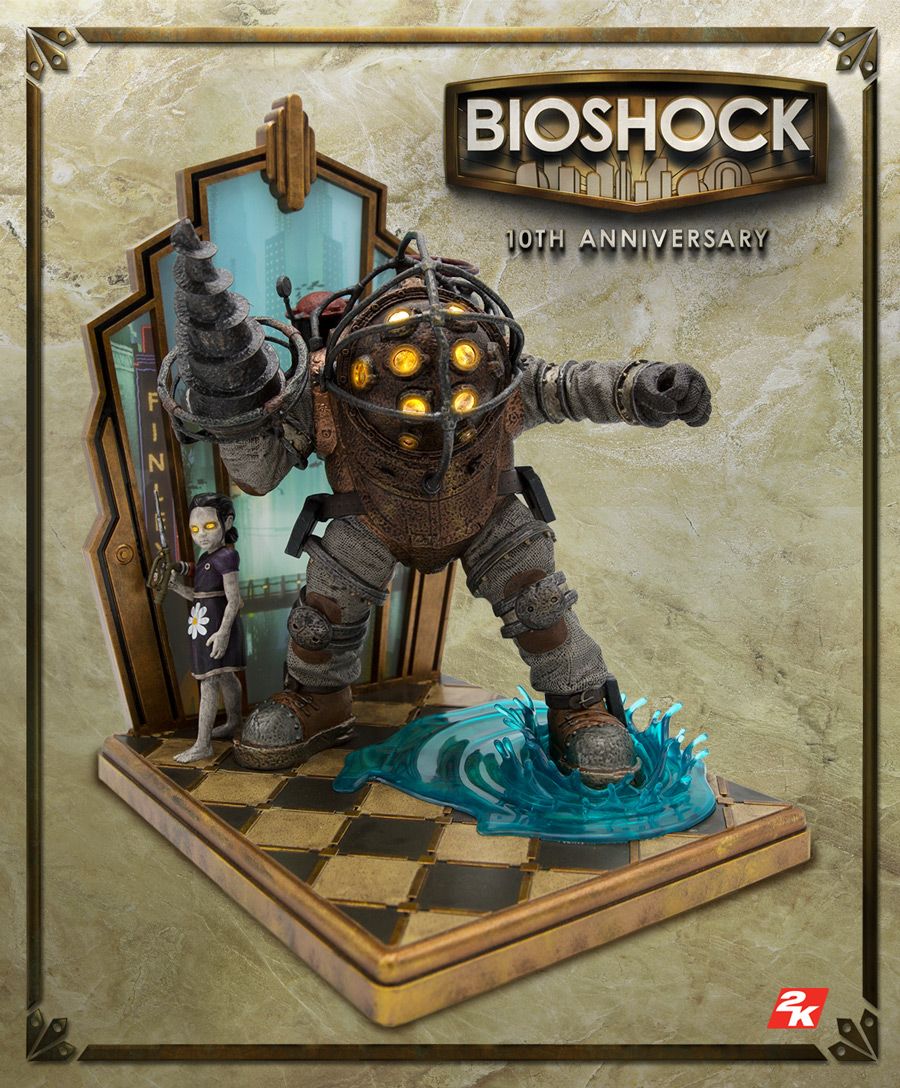 BIOSHOCK: THE COLLECTION ANNIVERSARY SALE
Some people out there still haven't played BioShock yet? Well, this is the perfect time to take your friends to Rapture – and Columbia. In honor of the 10-year celebration, we're dropping the price of the recently released BioShock: The Collection. This remastered set for the PlayStation 4 and Xbox One contains all the single player content, DLC, great behind-the-scenes BioShock Museum and a new documentary. To see where you can score this great sale price, would you kindly check here for full list of participating retailers?
FOLLOW OUR NEW BIOSHOCK YOUTUBE CHANNEL
A new BioShock YouTube channel is here! Be sure to check it out for classic trailers, highlights of some of our favorite fan videos, cool DIY creations and more in the coming months. Subscribe now so you never miss a thing.
We couldn't have gotten to where we are without you.
We hope to see you soon in Rapture, Columbia, online and in person.
Join our friends in the BioShock community now to share your favorite moments from the series and learn even more about what went into the series' creation.