Unidos Heritage Month at 2K
Unidos Heritage Month, taking place annually from September 15 to October 15, is all about celebrating the vast and rich culture of Latinos, Chicanos, and Hispanics. "Even though we all identify with the same term, we all come from very different cultural backgrounds," says Visual Concepts Austin's Benjamin Setton. "We foster inclusion, diversity and tolerance so every member can feel comfortable in their environment."
It's important to show others that they will be treated respectfully regardless of ethnic or cultural background. Uni2K has planned many activities with this particular purpose in mind, so identifying members feel supported and any non-identifying member is able to learn about our history and culture. In celebration of Unidos Heritage Month, we spoke with members of Uni2K about not only their own connection to their culture, but historical figures who hold special significance to them.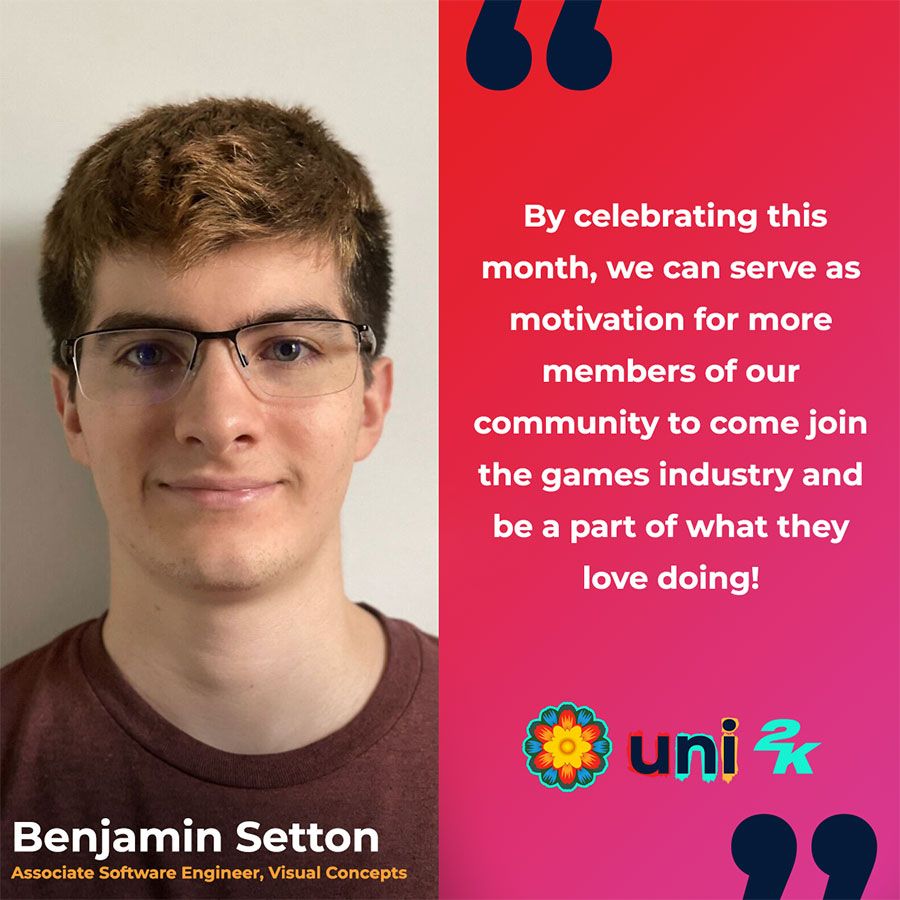 Benjamin Setton (Visual Concepts Austin)
Tell us about your role!
I'm an Associate Software Engineer working at Visual Concepts Austin. I have worked on NBA 2K League Season 5 and The Jordan Challenge for NBA 2K23.
What would you say to young people who want to follow in your footsteps?
I think that it's never too soon to start learning about computer science. There are thousands of resources available, from books to YouTube videos (my personal preference), that can teach you the concepts well, often for free. Also, with remote work becoming more popular, it makes it even easier to work at amazing companies even while you're not close to their physical offices. While it might be difficult to get started, the best thing you can do is Google your first question and the rest of your knowledge will snowball from there.
Why do you think celebrating Unidos Heritage Month is important?
I think celebrating Unidos Heritage Month is especially important because there aren't that many Latinos, Chicanos, or Hispanics in the games industry. It's imperative that we show support for others who want to join this industry and let them know that they are not alone. I think that by celebrating this month, we can serve as motivation for more members of our community to come join the games industry and be a part of what they love doing!
Historical Spotlight: Juan Santamaría
Juan Santamaría was a drummer in the Costa Rican army who fought in the Filibuster War in 1856. He valiantly died fighting this war after carrying a torch inside the enemy stronghold and lighting it on fire. Because of his sacrifice, he is regarded as a national hero. A holiday in his honor, Juan Santamaria Day on April 11, was created to commemorate his death, and the main international airport of Costa Rica is called the Juan Santamaría Airport. His sacrifice and selflessness saved countless lives, and his valor continues to inspire thousands to this day.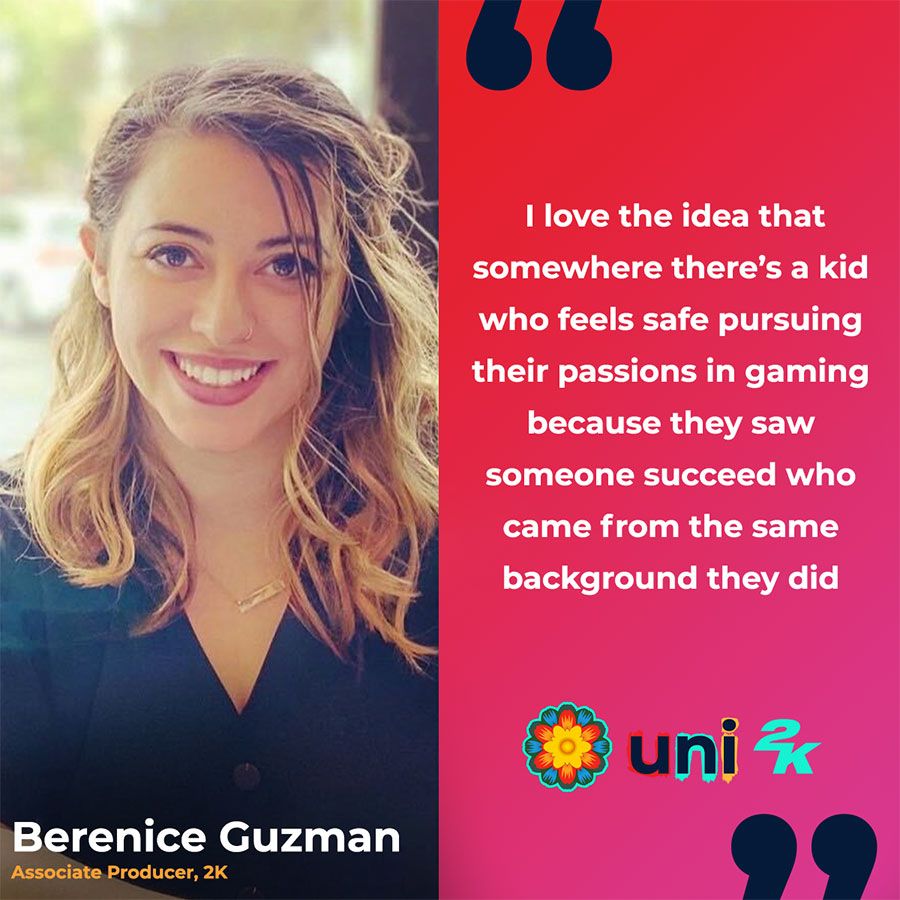 Berenice Guzman (2K)
Tell us about your role!
I'm an Associate Producer here at 2K. I work closely with our external game developers by coordinating internal and external resources that help provide support for our teams and products, from inception to launch and beyond.
What would you say to young people who want to follow in your footsteps?
Be curious, kind, and fearless. No one knows what to do until they do! Ask questions, be nice to others, and don't be afraid of not having the answer—be afraid of not being curious enough to find the answer.
Why do you think celebrating Unidos Heritage Month is important?
I remember the excitement I felt when I found out there was a dedicated space at 2K for fellow Latinx, Chicanos, and Hispanic folks. Providing representation for our people in the gaming industry and a platform in which to celebrate our achievements makes me proud to be at 2K! I love the idea that somewhere there's a kid who feels safe pursuing their passions in gaming because they saw someone succeed who came from the same background they did.
Historical Spotlight: Elvia Carrillo Puerto
The path to the recognition of women's citizenship and suffrage legislation in Mexico can be traced directly to the efforts of Elvia Carrillo Puerto. Elvia is credited with starting numerous feminist leagues that taught child care, economics and hygiene for poor women, most notably of those groups being the League of Rita Cetina Gutierrez formed in the state of Yucatan in 1919. The league inspected schools, hospitals, opened a state orphanage, and provided prenatal and postnatal care for women in the state. She later was elected to the Chamber of Deputies in 1923, becoming Mexico's first woman state deputy.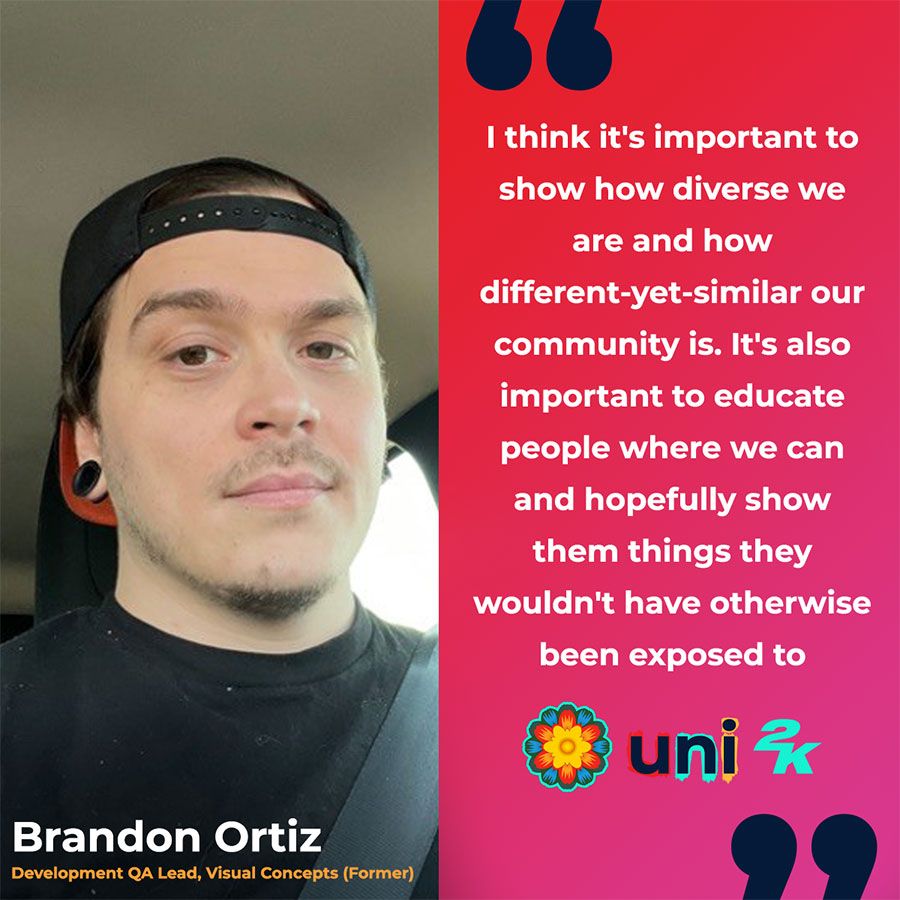 Brandon Ortiz (Visual Concepts Austin)
Prior to leaving 2K, Brandon spoke with us about his time here. We wish him nothing but the best on his next endeavor.

Tell us about your role!
I am the Development QA Lead with VCA on the NBA 2K series.
What would you say to young people who want to follow in your footsteps?
Never be afraid to ask questions. Never be afraid to wonder how you can do something better. That is how you can grow and become more than you ever thought you could be. No matter where you come from or who you think you are, never stop asking questions and growing—that's how you can get to where you want to be.
Why do you think celebrating Unidos Heritage Month is important?
I think it's important to show how diverse we are and how different-yet-similar our community is. It's also important to educate people where we can and hopefully show them things they wouldn't have otherwise been exposed to.
Historical Spotlight: Agüeybaná II
Agüeybaná El Bravo, translating to "Agüeybaná The Brave" in English, was one of the two most powerful leaders of the Puerto Rican Taíno people in 1493. He led his people against the Spanish Conquistadors in the "Battle of Yagüecas" in 1511, after the death of his brother. Even though he died during this battle as well, the Taíno people came to remember Agüeybaná as a brave and loyal leader. His legacy is demonstrated in the present day through commemorative plaques and infrastructure. In Puerto Rico, there was even an award, equivalent to the Oscars, at some point that was called "Agüeybaná de Oro" in honor of the great cacique.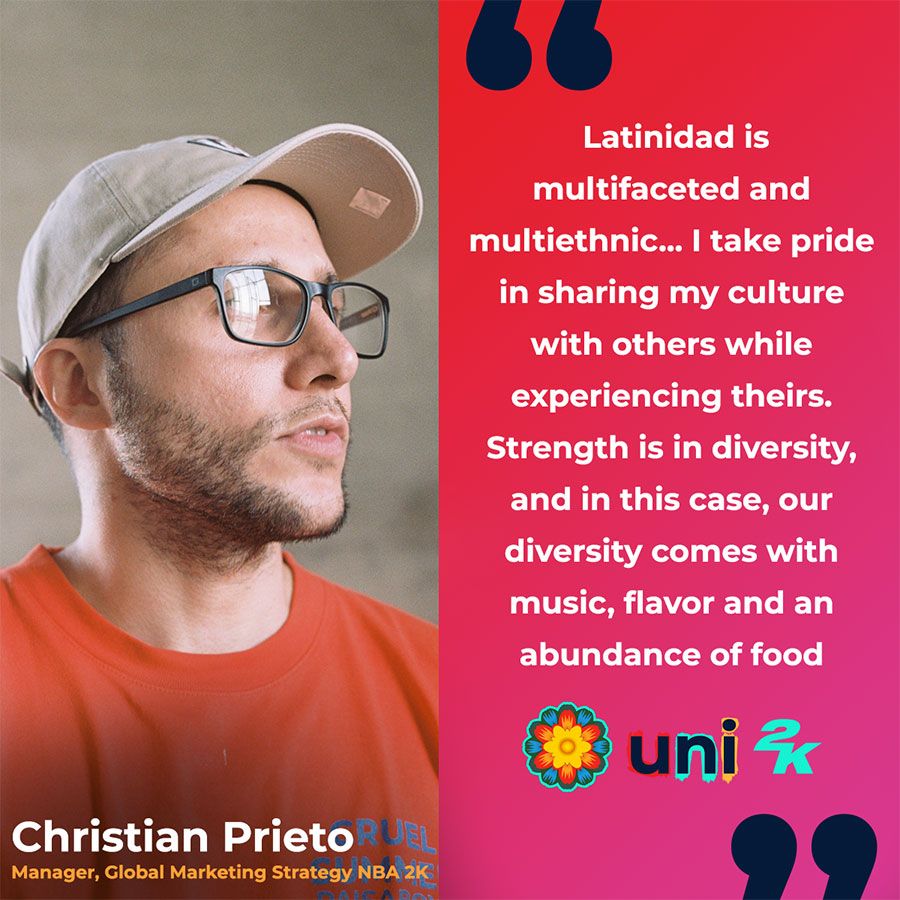 Christian A. Prieto (2K)
Tell us about your role!
I'm the Global Marketing Strategy Manager for NBA 2K. My role is to support our team in establishing and executing the Global Marketing team's vision year-round for the latest NBA 2K game.
What would you say to young people who want to follow in your footsteps?
Evolve and adapt, but don't change what makes you uniquely you. Our industry thrives off of authentic perspectives. There's no room for sameness in an industry that's at the forefront of tech innovation and entertainment.
Why do you think celebrating Unidos Heritage Month is important?
Our culture is cool, and runs deep within the fabric of the lands where our heritage was formed. From our native tongues, to the cuisine, Latinidad is multifaceted and multiethnic. I take the utmost pride in sharing my culture with others while experiencing theirs. Diversity is strength, and in this case, our diversity comes with music, flavor, and an abundance of food.
Historical Spotlight: Emiliano Zapata Salazar
A mestizo (mixed) horse trainer who wound up reshaping the whole of Mexico during the Mexican Revolution starting in 1910. Zapata was thrust into the spotlight when he fought for the rights of the impoverished during a time of dictatorship. This revolutionary's efforts resulted in victory and established a constitutional republic.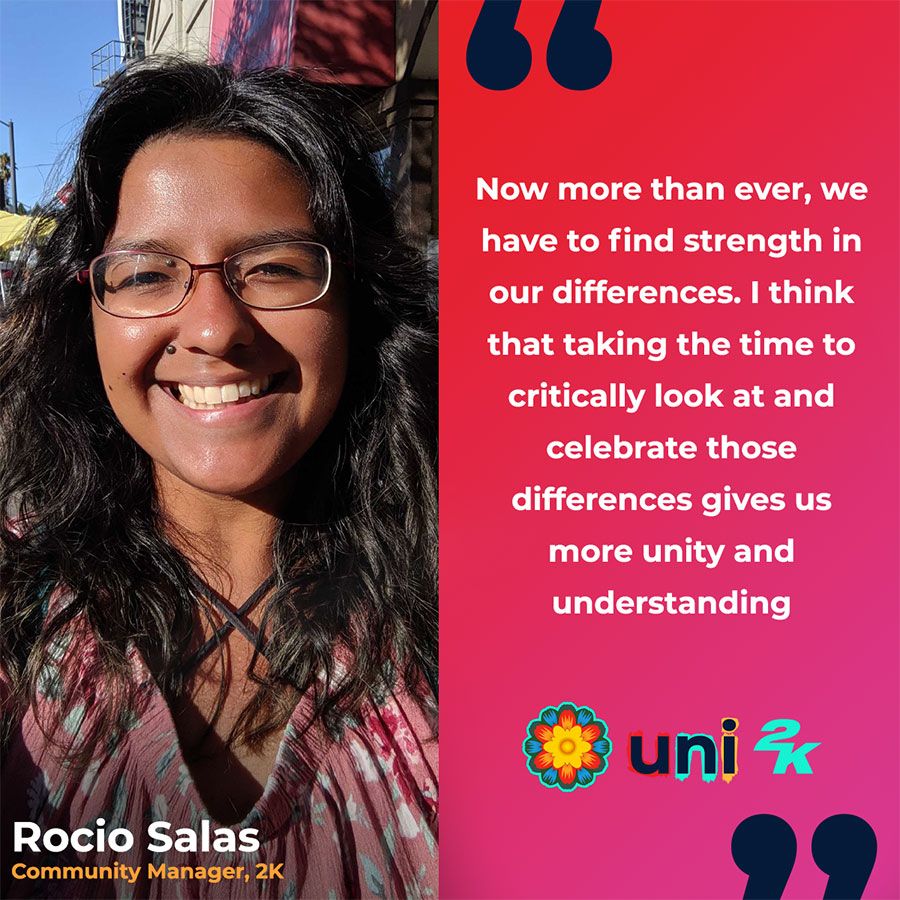 Rocio Salas (2K)
Tell us about your role!
I'm a Community Manager at 2K working on Core games (non-sports titles). My role is all about creating feedback loops, advocating for players, and more!
What would you say to young people who want to follow in your footsteps?
My best piece of advice is to be curious. Ask people what they do, what they like about it, what they don't like. The games industry is very vast and continuously changing, so if you want to figure out where you would fit best, you have to approach it with a very open mind. Especially if you're coming into the industry from a family or background that may not understand gaming as a profession, you have to do a bit of legwork and research to find your niche.
Why do you think celebrating Unidos Heritage Month is important?
Now more than ever, we have to find strength in our differences. I think that taking the time to critically look at and celebrate those differences gives us more unity and understanding. Even within Unidos, we all have varied lived experiences, backgrounds, and paths we took to get here. Unidos Heritage Month is a beautiful way to bring us together and take a moment to appreciate each other.
Historical Spotlight: Magdalena Carmen Frida Kahlo y Calderón aka Frida Kahlo
If you haven't already seen her work across the world, allow me to introduce you to Frida Kahlo, a Mexican surrealist painter best known for her self-portraits. Through her striking work, she examined subjects like identity, politics, inequality, and more. A survivor of polio, a bus accident, and several other resulting health issues, Kahlo was an incredibly resilient woman who created moving works of art and paved the way for other Mexican artists.
---
We are always interested in hearing more about our 2K employees. We are constantly striving to create safe spaces where everyone feels seen, welcomed, and appreciated. 2K puts the "Come As You Are" value into practice each and every day thanks to the courage and confidence of our employees, as we're always looking to grow our community in the most inclusive ways possible. Employees who are interested in sharing their story can reach out to 2kemployeecomms@2k.com.