5 Inspiring Women at 2K
For International Women's Day, we wanted to recognize 5 inspiring women at 2K to share their personal career experiences working in games, and empowering others to break into the industry. As strong and consistent as any, the mission of our Women in Gaming ERG at 2K is to support, promote, and empower women of 2K. These 5 incredible individuals embody that, and are helping to foster the future of women in gaming. There is a story for everyone in the words that follow.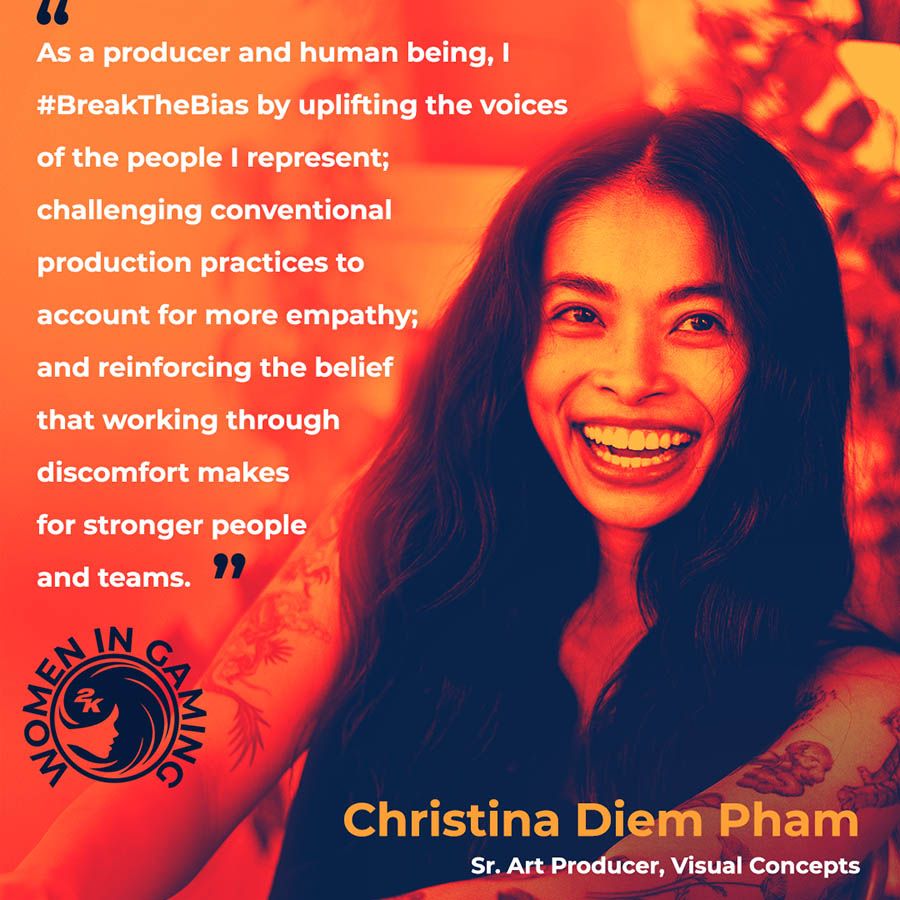 Christina Diem Pham / Senior Art Producer / Visual Concepts / WWE2K
How do you approach maintaining the art pipeline for an annual franchise like WWE2K?
With a whole lot of communication by way of facilitation and empathy; organization by way of collaboration, structure, and planning; and flexibility by way of anticipating change and moving with that rhythm and flow.
Producers are shapeshifters that adapt to the needs of our teams, so "maintaining the art pipeline" takes on different meanings based on where we're at in development, including where people are at mentally.
On one day, my approach might mean creating schedules, auditing deliverables, and checking in with external partners. On another day, it focuses on moderating perceived conflict between folks or having candid conversations about why there's a different energy in the air. Both things are necessities: the first because we're making a game and need to keep the momentum moving forward; the second because we're humans with emotions and what we feel impacts how we work.
Any surprising or unexpected ways your experiences at Visual Concepts have helped you grow professionally?
Hell yeah. Visual Concepts, and more specifically the leadership I work with, has provided me with the platform to comfortably stretch my limbs as a producer. This trust and ownership enable me to maintain my philosophy that production disciplines need to focus on both product and people in parallel. That support also reignited my appreciation for game development at a time when I thought I wanted out.
Additionally, the organization has also challenged and empowered me to flex beyond what I've experienced in my previous roles as a producer at other studios. And lastly, I appreciate that I was evaluated beyond the role I was hired for because I'm able to contribute and collaborate in other areas of the product, such as player-facing communications and overseeing initiatives like the Ringside Report.
What advice would you give to someone aspiring to break into the games industry as an art producer?
For starters, I hope you enjoy working with artists. Maybe you're even an artist of sorts in your spare time. Art teams are truly a quirky bunch that require producers who will actively listen to them, champion them when they're not in the room, and also set boundaries. As an art producer, you're an advocate for your creatives and a partner to your art director and leads.
If you find yourself wanting to explore that path, reach out to folks who are already doing the role and thoughtfully ask if they'll give you some time to learn more. If they say yes, prep for that conversation because you'll want to make good use of their time, and yours. Perhaps do some research into projects they've worked on, or ask questions about why they went the production route to begin with (Pro tip: Also take note of producers who cut through the bullshit and give it to you straight). If that first option isn't as accessible, look into local game jams and learn how you can support the organization of those projects. Exposure to these environments will provide you with some invaluable experience working with creatives.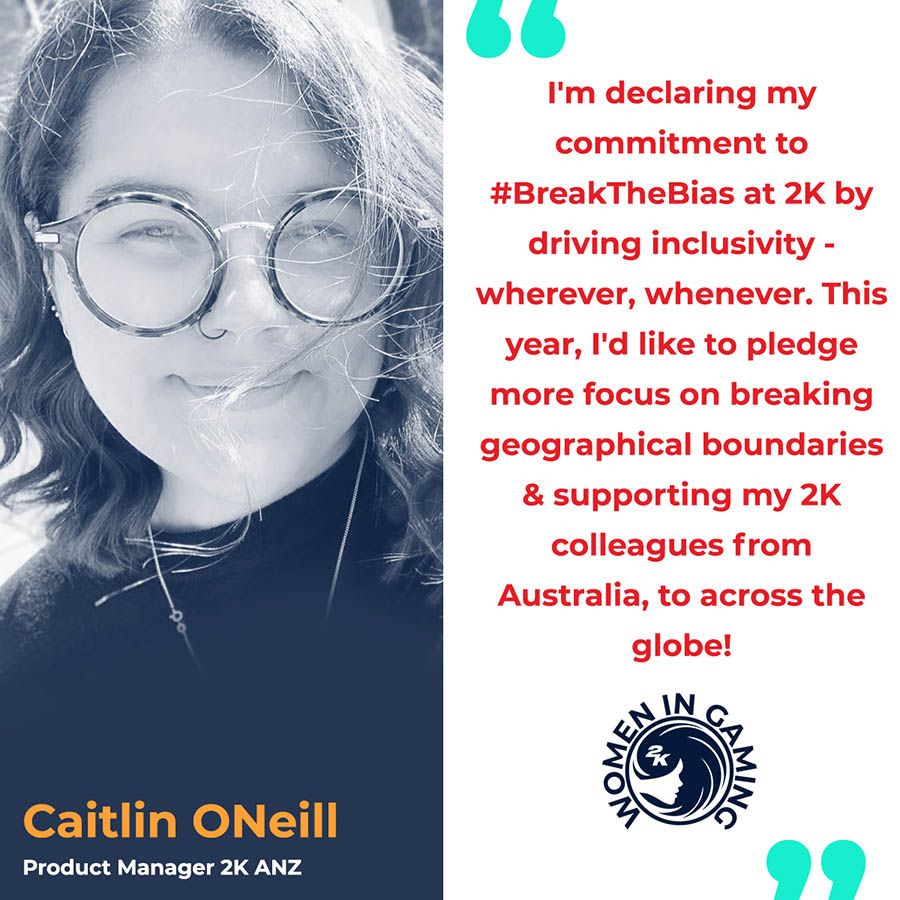 Caitlin O'Neill / Product Manager / 2K ANZ
How have you been empowered to be a leader in your current role at 2K, whether that's heading up a project, leading a team, or voicing a different perspective? What have you learned?
I'm empowered every day! The best part of working alongside such a supportive and energetic team is that each of my colleagues helps to lift us up in varying ways – from varying points of expertise. My personal stand out project from this year, being my work as the ANZ Product Manager on Tiny Tina's Wonderlands.
The most valuable lesson I've learnt as part of product management is that no matter where we're at - we're all one team, working towards the same goal. Everyone has different individual tasks & deadlines to hit, but the more we discuss & collaborate (as made even more accessible by tools like Slack & Zoom) the more we can align our ideas and conversations to ultimately lift the title up. For example, ANZ has longer lead times for producing TV spots – which was communicated early on as part of a larger global conversation for Tiny Tina. Working together (both globally and locally), we've been able to deliver assets efficiently - weeks ahead of deadline. Team work!
Any surprising or unexpected specific ways your experiences at 2K have helped you grow professionally thus far?
As a Product/Marketing Manager, it is always surprising to say – presenting does not come naturally to me. Growing up, I was always incredibly introverted and found public speaking to be a painful task. Through my role at 2K, I've spent many hours presenting some amazing 2K titles to multiple key stakeholders – which has significantly helped to ease my fears. I've also spent time educating myself via LinkedIn Learning to understand different breathing techniques and ways I can improve at this task.
To add to this, I've always been an avid gamer. To talk about something I'm truly passionate about like upcoming titles Tiny Tina's Wonderlands, WWE 2K22 & Marvel's Midnight Suns – it makes a huge difference. Not only has this helped me grow professionally, but I'm thankful to say – it has positively impacted my personal confidence as well.
What advice would you give to someone aspiring to break into the games industry as a brand manager?
Take it from me, it takes time! While your current experience or role may not be gaming related, that doesn't mean you can't work your way there. How can you boost your education or resume to make yourself look like the optimal candidate? Are there any internships or work experience opportunities running near you that could help build your brand? Gaming events or meetups you can volunteer at? Make sure to always keep your LinkedIn profile fully up to date with your latest roles and extra-curriculars.
While at university, I interned for a popular local gaming TV show called Good Game, running errands & transcribing episodes. Because of this role, not only did I gain valuable insights into the industry – but I also made industry friends who provided wonderful help & advice as I applied for later opportunities. Always keep an eye out & set up direct alerts for job boards, as what you're looking for can come & go quickly. I was lucky enough to be on the look out when my role at 2K was published. At the time, my marketing experience was in TV & Film - so I learnt how to directly link each of my skills into something buildable for a gaming-based position. I started as a Junior, then built my way up to larger titles & more responsibility.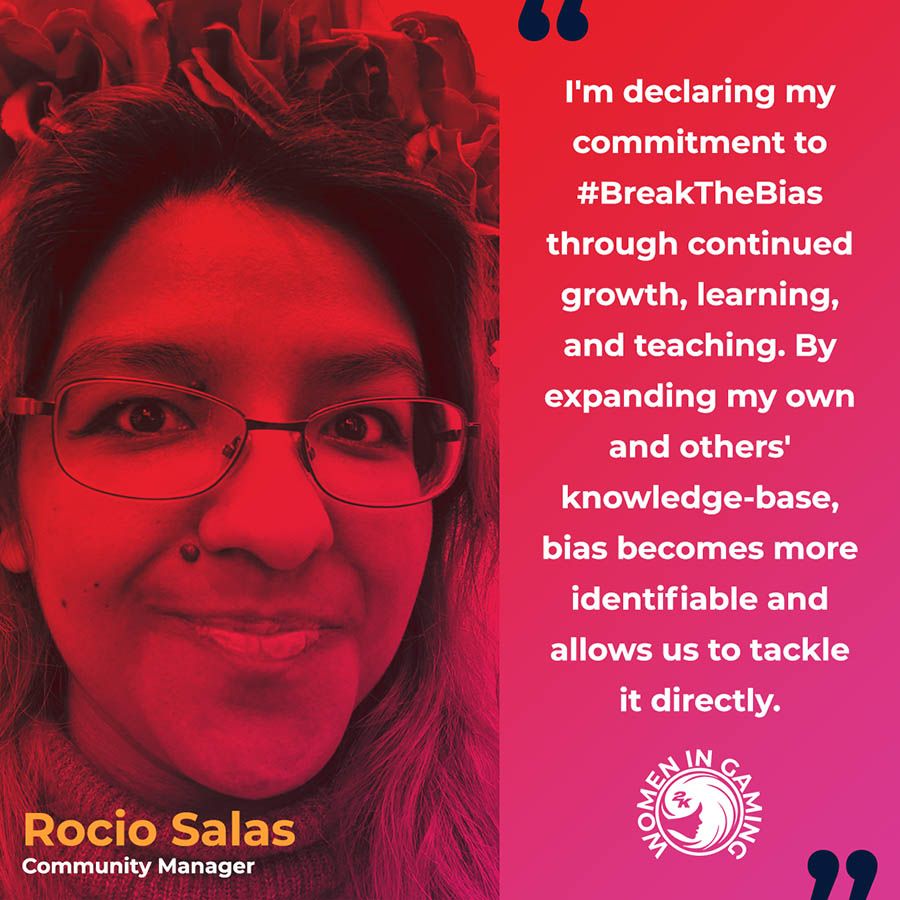 Rocio Salas / Community Manager / 2K Core Games
What do you like most about your job as a Community Manager at 2K? Any memorable moments thus far?
One of my favorite parts of joining the 2K team as the Core games Community Manager has been getting to know each of the game's teams. Despite having different folks on them, different goals and challenges, each one has been phenomenal to be a part of and is passionate about the work that they do. Part of this, a recurring type of memorable moment at 2K has been those moments during brainstorms where everyone in the room makes the same connection at the same time, leading to the perfect "aha!" moment and showing the type of synergy that the teams have had a chance to develop! And even when we don't agree, each team has been willing to have those difficult discussions and let everyone in the room make their thoughts known, something that I cherish as a Community Manager.
When you think about meaningful engagement with fans of our games, what have you found matters most to a fan?
A quick disclaimer that I can't speak for all fans! But for some of the most dedicated, involved members of the community what typically matters most is that they're being truly listened to by a game's team. This goes beyond acknowledging feedback, it involves consistent, two-way communication, including ways for players to understand game development better and ways for developers to understand the player experience better.
What advice would you give to someone aspiring to break into the games industry as a Community Manager?
Get involved in the communities for games that you love! My love of community started when I was young, spending my free time on forums for games I was obsessed with at the time. I realized exactly how powerful a community could be, how members of a community work together, and what a community needs to thrive. Beyond that, make sure you're constantly learning from other communities, new social platforms, and games-- we've come a long way from forums and gaming has evolved drastically, so staying active and agile really helps!
Neashell Newman / Customer Service Associate / 2K Vegas
Customer Service are unheralded heroes of any industry. What do you love about this profession here at 2K?

Troubleshooting in customer service is like being a detective. We have to investigate to get the full story since we can't see things from the customer's side. Since we are essentially flying blind, we really have to work together with the customer to get to the bottom of the issue. It's always a great feeling when you crack the case and things start working again! I love the customers' excitement and giving them a virtual high five for a job well done together.

What are the most common skills, both function and soft skills, that you rely on daily to support customers?

Multitasking and organization is important since sometimes you are jumping from one ticket to 3 chats all with different issues. It's really easy to start tripping over yourself so having patience and being able to communicate without pre-scripted text is really helpful to avoid getting confused.

What advice would you give to someone aspiring to break into the games industry in Customer Service?

Try not to be robotic. People like talking to people so putting a bit of your personality out there can really help change a situation around.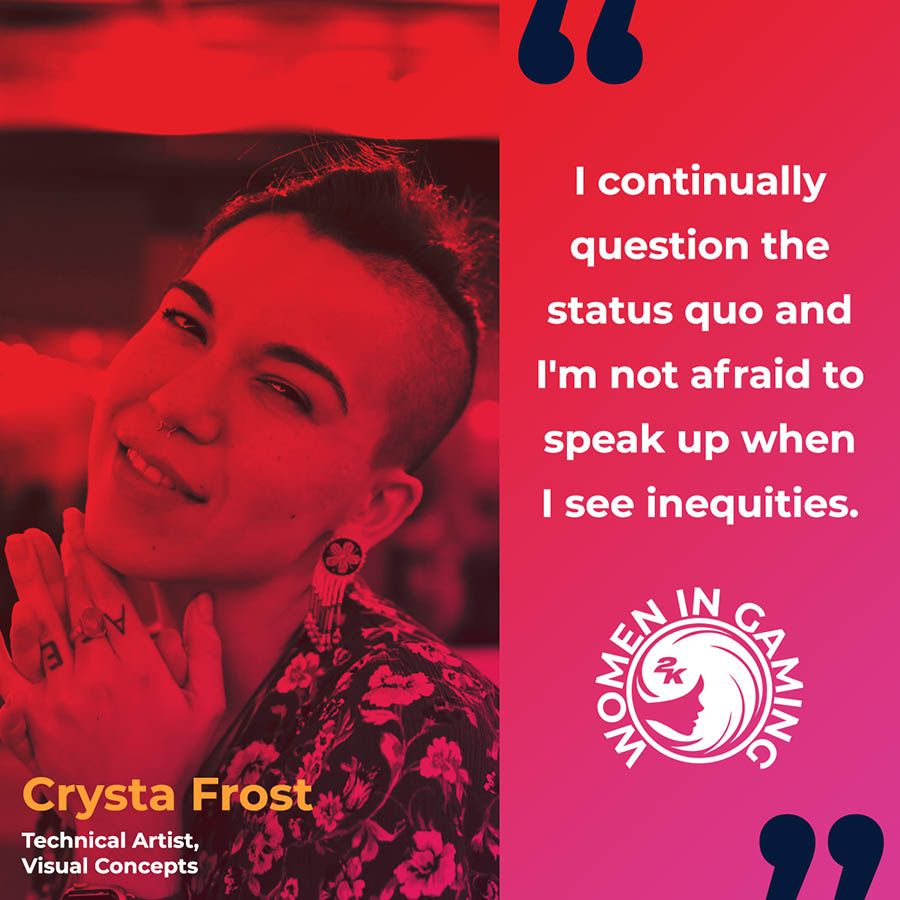 Crysta Frost / Technical Artist / Visual Concepts / NBA2K
How do you approach elevating the art of an annual sports franchise in NBA2K? What tools or tech do you prioritize to constantly innovate?
The NBA team is always striving for attention to detail and maximizing the quality of our work in the little time we have to put out our game every year. My role as a Tech Artist deals a lot with optimizing the Art Team's time so that they can focus on making the best art possible. I love writing tools that speed up an artist's process so that they can do the art, not the repetitive tasks that like naming conventions and file management and the like.
What is one of the most challenging aspects of your role as a Tech Artist? Any wisdom how you traverse it?
I think it can be really challenging to find the time to keep on top of new techniques and technology that are constantly coming out. Our work keeps us busy, and we're all busy in life outside of the work day. I find it incredibly valuable when a coworker shows me something I can learn from or gives me feedback on something I can do more efficiently or with a cleaner line of code.
Any particular women in the gaming industry that you're most inspired by whether here at 2K or elsewhere?
Yes! I'm very inspired by my Art Director Ann Sidenblad. She's got such a commitment to excellence for our game and also a deep sense of compassion for our team. She's really put in a lot of time to keep us all connected during the ongoing pandemic and work-from-home. I also can't tell you how excited I am to have other women on our Tech Art team. In the world of Tech Art, there's not a lot of representation across the gender spectrum, so I'm glad that that seems to be shifting.
---
Thank you to everyone openly sharing their experiences and thoughts on empowering others looking to break into the gaming industry. Continuing to build both an internal and external global gaming community of women is paramount to all our teams here at 2K. It's important to cultivate a culture of inclusion where employees feel they belong.
We firmly believe that diversity makes us better, and one of our most crucial company values is "Come As You Are." We're always excited to welcome new people with diverse ideas and perspectives, because we want our workforce and our games to be every bit as diverse and inclusive as our audience. All our employees deserve to feel accepted and listened to, equipped to do their best work, no matter how they identify and connect with their peers.