Celebrating Pride at 2K
June is Pride Month, a time to celebrate all members of the LGBTQIA+ community. In the spirit of Pride, the 2Gether@2K ERG planned numerous events and workshops this June to further our culture of acceptance and inclusivity (and have fun in the process!). As with all of 2K's Employee Resource Groups, 2Gether@2K reinforces the company value "Come As You Are," as we continuously strive to create a culture where everyone can be their authentic selves and bring a diverse range of perspectives to our work. In honor of Pride Month, we talked with some 2K employees about how they celebrate Pride and what it means to them. Here's what they had to say: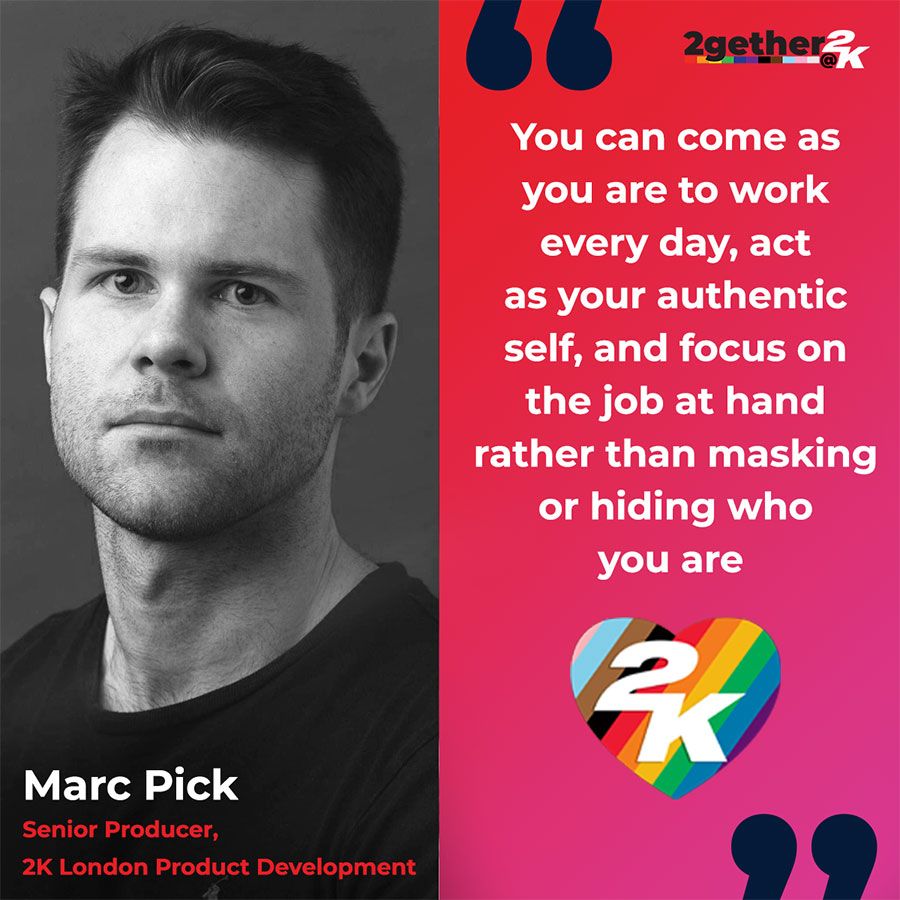 Marc Pick
2K / Senior Producer
What's something you're excited to do this month in celebrating your identity and Pride?
I'm super lucky to live in London where there's an incredible gay scene, but every year my friends and I try to tour different Pride weekends in the country and see how other cities celebrate it—Brighton and Manchester being two of our favourites that we've booked in this year. I'm really into music so it's also a great opportunity for us to see queer-friendly artists play to huge crowds that receive them warmly; there's a unique buzz you get in a Pride crowd that's pretty special compared to your average gig. Every year as a tradition my friends and I also collaborate on a Pride playlist to soundtrack our warm-up celebrations throughout the month (though by June 30 I have to say the tracks on there do start to wear a little thin)!
What does it mean to you that 2K is celebrating Pride Month?
It means a lot to me—it sends a message that you can come as you are to work every day, act as your authentic self, and focus on the job at hand rather than masking or hiding who you are. This year's celebrations look to be a good mix of remembering the history of Pride and why it exists today, while also giving us a chance to let our hair down and celebrate as a company. I joined 2K not long before an event in our London office for LGBT History Month, and there's no greater action that says 'You can be yourself here' than seeing your teammates join in with celebrating a cause that means something to you and your identity.
How do you celebrate Pride and what does it mean to you?
Pride isn't something I celebrated or was even really aware of as a child, so it never stops feeling amazing that something I felt so much uncertainty over as a kid is now being celebrated on such a large scale in cities around the world. While Pride is definitely a celebration, I do try to stay grounded each year and use it as a time to read up on and be more aware of groups around the world who don't have this outlet and reflect on ways we can support them.
Who are your LGBTQIA+ role models?
Most recently I've been inspired by Jake Daniels, the first male footballer to come out as gay in the UK since 1990. I can't imagine the bravery it took for him to reveal that at just 17 years old, and the implications this could have for generations of people who watch and love the sport. As queer people, we often think about how our lives would've been different if certain figures who are prevalent now had been there when we were younger, and how that might've benefitted us growing up. It's incredible to think that young gay people in this country will have a role model on the pitch every week.
Tell us how you are able to be your true authentic self?
As time has gone on, I've definitely gotten better at not seeing myself as having a 'gay side' and a 'not-gay side,' and to stop masking the aspects that could give the game away to others. Life got much easier when I stopped biting my tongue if colleagues or friends asked how my weekend was and I'd been front row at a Charli XCX concert!
I also try to remember just how much bigger and cooler my life has gotten since I embraced my authentic self: new friendships, access to new spaces, feeling part of a community—not to mention how much happier and relieved I am living day to day. There can definitely be joy and beauty in being part of a marginalized group—the connections it can help you build with others in your boat, and the resilience and empathy it can hone. Finally, I make sure to surround myself with people who take me as I am, 100%—life's too short for anything else.
Do you have any advice for someone who wants to work in gaming?
Gaming can be a tough industry to break into, so first of all just believe in yourself and be prepared to be resilient! The good news is that, as the industry continues to mature, there are so many more functions and roles popping up that simply didn't exist at scale even a few years ago. Try and build connections with people already in the industry so you can fully understand what different departments do and understand where you could fit in—there are a lot of formal and informal mentorship schemes out there which can help you get a foot in the door.
But the biggest advice I can give to prepare for any role in gaming is to continually play, break down and critique all different kinds of games (including genres you don't enjoy). Think about which features work and which don't; why certain design choices were made; what constraints the developers might've been under. Whether you want to work in engineering, marketing, production, or something else entirely, having a good critical eye and understanding the market will always serve you well.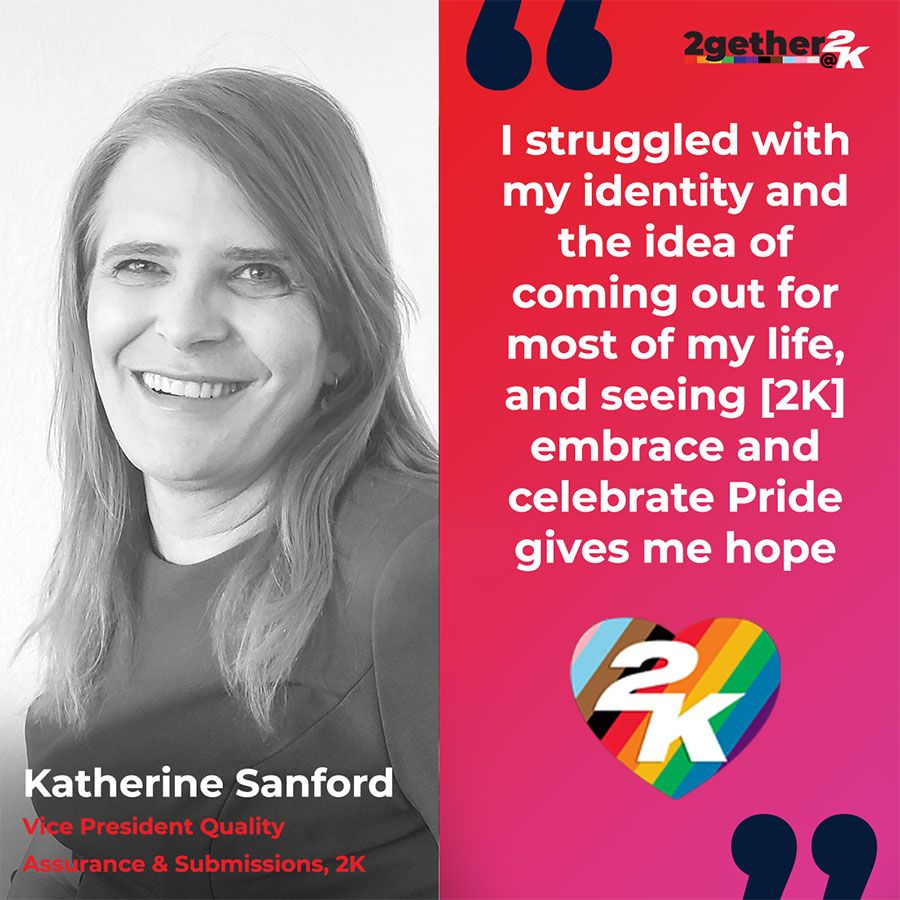 Katherine Sanford
2K / VP, QA & Submissions
What's something you're excited to do this month in celebrating your identity and Pride?
I'm most excited about attending San Francisco Pride and some of the events around it this year. I didn't start transitioning until 2019, wasn't fully out until after the pandemic started in 2020, and was still recovering from surgery in 2021. So this is really the first year of the large public Pride celebrations since I've been out; where better to spend it than in one of the largest and oldest Pride parades in the US!
What does it mean to you that 2K is celebrating Pride Month?
I love that 2K is celebrating Pride and recognizing the LGBTQIA+ members of our organization. I struggled with my identity and the idea of coming out for most of my life, and seeing the company embrace and celebrate Pride gives me hope that it has and will continue to get better. My hope is that other members of our company or fans of 2K who may be struggling as I did will see the acceptance we have here, which can give them the courage to start living as their authentic selves no matter how they identify.
How do you celebrate Pride and what does it mean to you?
Celebrating Pride is about being visible and proud of my identity. The hope is that someone will be inspired by seeing myself, and others, celebrating who we are and feel safe to explore who they are, or that someone who doesn't identify as a member of the LGBT community will be inspired to interact and gain a better understanding and acceptance. It is also important that Pride isn't just a celebration of where we are today, but also a reminder that there is still work to be done both in the US and worldwide for LGBTQIA+ rights.
Who are your LGBTQIA+ role models?
To pick a few… Marsha P. Johnson—while there are many different versions of her involvement in the Stonewall Riots, she was active in the early days after the riots and helped start what became Pride as we now know it. Tim Cook as a fellow Alabamian (War Eagle Tim!). Danica Roem, who was the first openly transgender person to serve in any state legislature, and was attacked repeatedly during the campaign by her opponent due to her identity.
Tell us how you are able to be your true authentic self?
Overall it came down to: I am going to present and live as the person who makes me the happiest, and not the person that I thought everyone else wanted me to be. I know that sounds simple, but it took me years to get to that point, and then months and months after the realization to actually be able to do that consistently. Yes, there are people who wouldn't accept me because of it—but the people who I need and are most important in my life supported me all through the process.
Do you have any advice for someone who wants to work in gaming?
No matter the discipline, start building your craft and work on improving it regularly. Look for opportunities to get exposure to industry professionals through coding, design, or art challenges—or even just providing great feedback to developers in forums or as part of betas. QA is still a good entrypoint into the industry, while there are numerous roles that are not a natural transition from QA, there are still benefits to the industry experience and the connections you can make both within QA and the larger organization.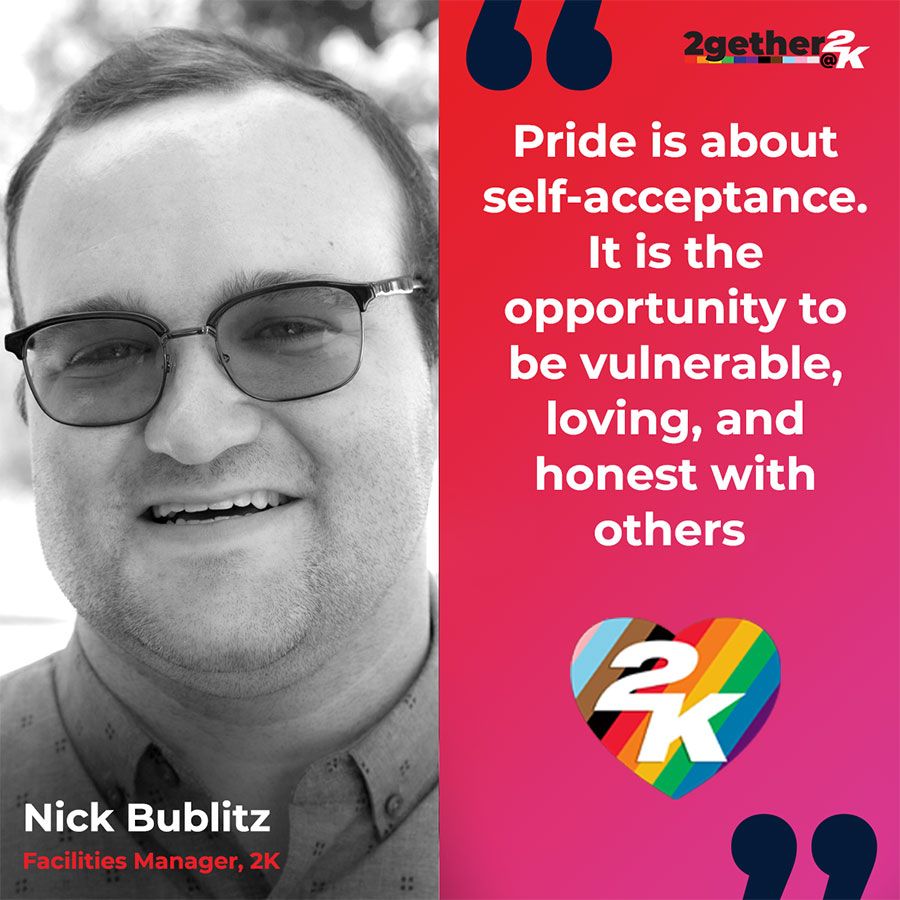 Nick Bublitz
2K / Facilities Manager
What's something you're excited to do this month in celebrating your identity and Pride?
It's always an exciting time of year! I look forward to attending some local events, as well as spending time with family and friends.
What does it mean to you that 2K is celebrating Pride Month?
I feel honored to work for a company that openly celebrates its employees in their entirety. I have worked for 2K for nearly eight years now, and this is my first employer to support Pride in a genuine fashion.
How do you celebrate Pride and what does it mean to you?
Pride is about self-acceptance. It is the opportunity to be vulnerable, loving, and honest with others. Pride is to feel like a part of a greater whole. It means that one day, we will all have the love in our lives that we deserve.
Who are your LGBTQIA+ role models?
Ben Platt, Elton John, and Stephen Fry!
Do you have any advice for someone who wants to work in gaming?
The games industry is more than people creating games—it takes skills from all areas to create a final product. As Facilities Manager, I support the business by building and maintaining offices and infrastructure. We have in-house accountants, Human Resources, legal teams, IT—the list of support staff goes on and on. It's not all developers, artists, and marketing; it takes a village to create games that we can all be proud of.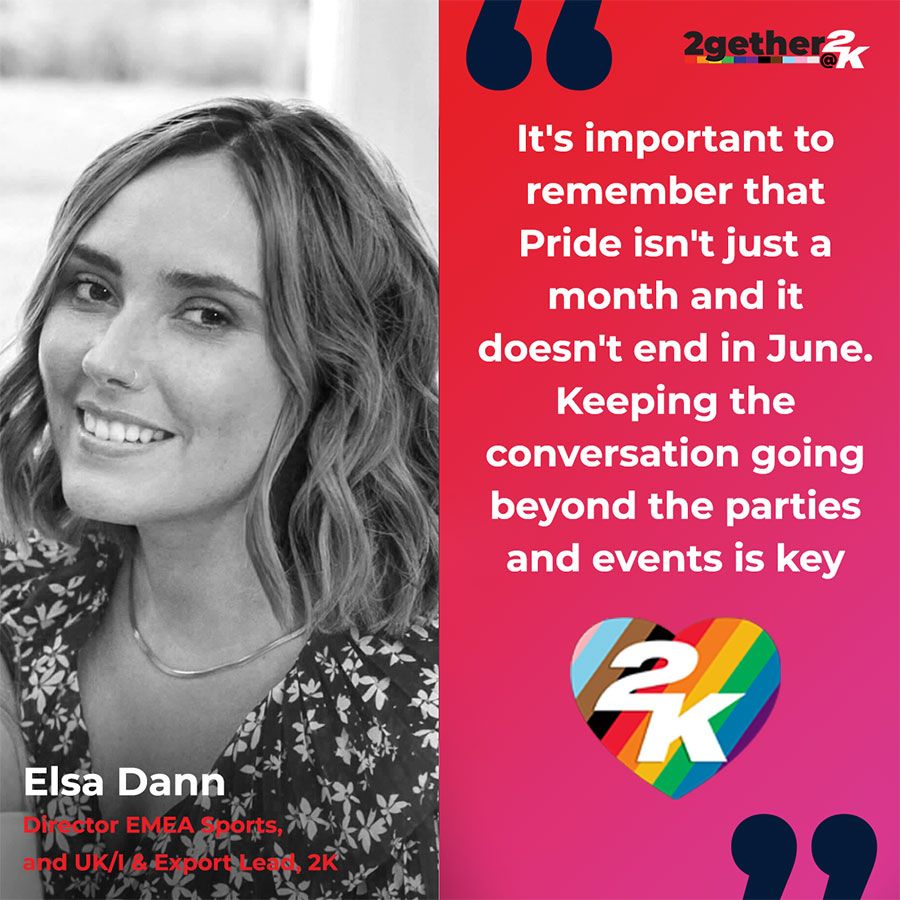 Elsa Dann
2K / Director EMEA Sports, and UK/I & Export lead
What's something you're excited to do this month in celebrating your identity and Pride?
There are so many things I'm excited about; having 2 years off from in-person Pride celebrations means that everything seems bigger this year! I'm looking forward to all the varied, amazing events that are being put on all around the city. It's such an amazing atmosphere to be a part of, and creates an amazing environment of acceptance that's hard to put into words. The British museum has a fantastic event which includes a tour of the exhibits, focusing on LGBTQ+ history and the conversations and attitudes that surrounded the community at that time. And of course, the all-day drag brunch is definitely on my list!
What does it mean to you that 2K is celebrating Pride Month?
There are so many different people who identify as LGBTQ+ but it's important for everyone that 2K recognises and reacts to the desire for everyone within the community to feel safe, represented, and accepted. Our core value at 2Gether@2K is to not only help create an environment where everyone feels safe to come as they are, but to encourage a culture and environment at 2K where everyone is celebrated for who they are. It's amazing to see this come through in the celebrations and workshops 2K has during this month.
How do you celebrate Pride and what does it mean to you?
Pride for me is all about celebrating who we are, and sharing in the celebrations of everyone across the community. It's always incredible to see the amount of people celebrating Pride, showing up, and showing support for one another and our friends. It's important to remember that Pride isn't just a month and it doesn't end in June. Keeping the conversation going beyond the parties and events is key to making sure we are constantly striving to create the best environment for everyone to feel secure and celebrated for who they are.
Who are your LGBTQIA+ role models?
Marsha P. Johnson (obviously) and Clare Balding (very British)! But really it's the everyday role models who act to make a difference and stand up for the rights and spaces that LGBTQ+ communities are entitled to. It doesn't matter how small of an act, whether it's starting a conversation with a new colleague and asking them what their preferred pronouns are, or pushing for representation of our community in the world around us, it's everyone collaborating together that will continue to move us forward.
Jake Daniels is a great example of this. In May, Jake came out as the first active openly gay male footballer in the UK since 1990, which is incredible in driving visibility to the community and helping others feel safer in spaces that have not been as supportive and inclusive in the past.
Tell us how you are able to be your true authentic self?
Not letting people dictate which space I am allowed to take up. It's not always easy to bring your authentic self to every part of your life, including work, but being honest, speaking up, and asking for support where I need to allows me to ensure I can feel celebrated for what I bring to work and to the team. I try to actively create the same environment within my own team too, and encourage everyone to bring their best, most authentic selves to work every single day.
Do you have any advice for someone who wants to work in gaming?
Come as you are and don't accept not being able to take up your own space. It's important for every industry that we create a culture of diversity and inclusion, and it's essential for us to hear and understand different views and opinions—so don't be afraid to speak up. There are some great mentorship programmes focused around LGBTQ+, women, and many more diverse groups in gaming if you want to connect with leaders across the industry, so definitely reach out.
---
We are always interested in hearing more about our 2K employees. We are constantly striving to create safe spaces where everyone feels seen, welcomed, and appreciated. 2K puts the "Come As You Are" value into practice each and every day thanks to the courage and confidence of our employees, as we're always looking to grow our community in the most inclusive ways possible. Employees who are interested in sharing their story can reach out to 2kemployeecomms@2k.com.