Celebrating Two Years of Mayhem!
Enjoy five weeks of mini-events and some surprise goodies to celebrate the anniversary of Borderlands 3!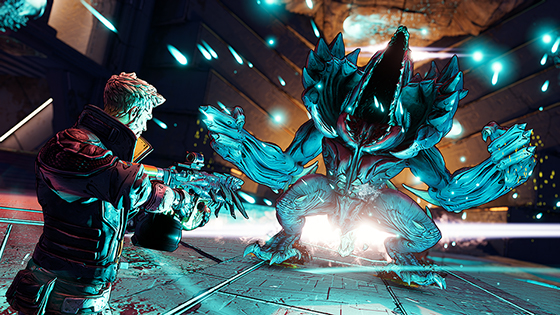 Two years since launch and Borderlands 3 is still going strong, all thanks to you—the Borderlands community. There's been plenty of BL3 mayhem made since our previous Year in Review check-in, including the launch of the Director's Cut add-on (with its raid boss, story missions, behind-the-scenes content, and Vault Cards), the long-awaited Crossplay Update, and in-game additions like Crazy Earl's Reroll Machine and Maurice's Black Market Vending Machine. To celebrate the second anniversary of Borderlands 3 on September 13, 2021, we have five weeks of mini-events lined up to show our appreciation for your passion and support!
Starting August 12, the fan-favorite Loot the Universe series of mini-events that reward you with loads of Legendary loot for seeing (then shooting) the planetary sights will be back. Each week during Loot the Universe, Borderlands 3's planets will take turns becoming a bastion of better drops, with specific types of Legendary loot having increased chances of dropping in one of that planet's zones. And of course, you'll get to keep all the bonus Legendary loot you find during these mini-events!
Just like last year, each planet's affected zones have their own dedicated Legendary weapon type (Pistol, Shotgun, SMG, Assault Rifle, Sniper Rifle, or Heavy), and may also have increased chances for Legendary gear types (Class Mods, Artifacts, Shields, or Grenade Mods). It'll be up to the community to discover which kinds of Legendary loot drops where, so mark your calendars: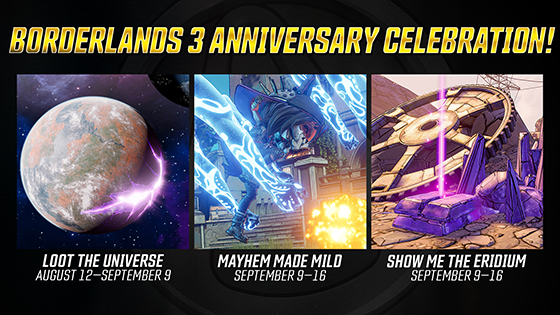 The fun doesn't stop after your galactic tour. Starting September 9 at 9:00 AM PT, we're kicking off two more mini-events happening in tandem: Mayhem Made Mild, where you'll only encounter Easy modifiers in Mayhem Mode, and Show Me the Eridium, which grants increased Eridium drops and Eridium item discounts.
We've got even more planned for the anniversary on September 13, but we don't want to spoil the surprise just yet—so be sure to check back for details closer to the big day.
Everyone who owns Borderlands 3 will want to take advantage of these exceptional mini-events before the whole shebang ends at 8:59 AM PT on September 16. Thanks for making so much mayhem in Borderlands 3 these past two years, Vault Hunter—it wouldn't be the same without you!