2K Life: David Park, Behind the Lens
If you've ever watched an episode of 2KTV within the community hubs of the NBA 2K series or on the NBA 2K Youtube channel, odds are you've seen some of David Park's work. David joined 2K back in January 2015, just a month or so after the first episode of 2KTV, and he's been contributing his considerable talents to the show ever since.
"When I first started out as a contractor, I was intrigued by the concept of a show inside a video game and the possibilities of expansion, and boy, it was true!" says David. "Our team constantly grew and we've made strides in our creation, reach, and workflow from those early days.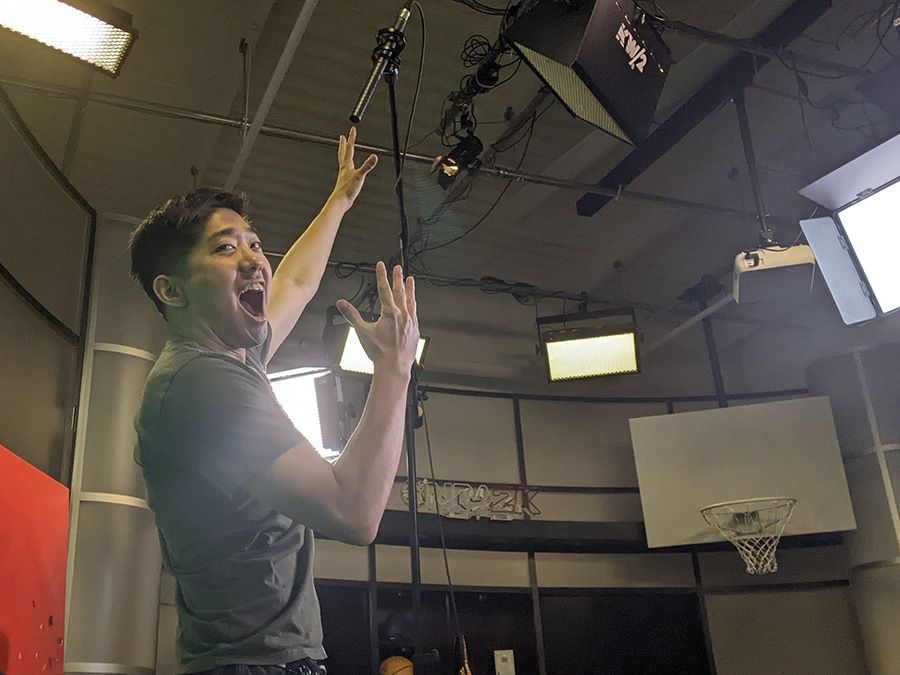 "One of my life's biggest dilemmas was deciding between shooting and editing"
"I'm actually an editor and shooter, which is what I find most satisfying about the job. Our team is made up of about a dozen or so super-talented individuals, and we pump out a new 2KTV show every week. One of the things I love about this team is that we can all contribute in different ways, rather than being pigeonholed in a more traditional video production environment. I've always loved video photography, and one of my life's biggest dilemmas was deciding between shooting and editing in my formative years when I was under the impression that I'd have to choose."
Producing an episode of 2KTV every week is a whirlwind team effort that requires David and his colleagues to adhere to a strictly regimented schedule.
"On Mondays and Tuesdays we grind out our first cuts and compile a content cut of our work for approval," he explains. "Then on Wednesdays we lock the timing of a more polished version in preparation for audio mixing. Thursdays we get to see our final cut with last-minute tweaks, and on Fridays the show is released in-game and to the world on social media. And then we start all over again.
"Amidst all this, shoots are peppered in. Typically these are either in our studio or at the motion capture studio in Petaluma, where we get to film behind-the-scenes action of NBA stars being captured for the next game. We also shoot at locations across the country and even outside it, interviewing and interacting with NBA players past and present, as well as artists and renowned creatives who love the game."
One of the pieces David's most proud of having worked on at 2K is a short-form documentary profiling a content creator named Poorboysin.
"We injected a bit more dramatic weight and delved into the human side of the gaming world, which I really connected with. The shooting is more organic, handheld, and the cadence of the piece is story-driven. Alan Palmer was the amazing shooter and I was the editor.
"Gamers are savvy and well-connected to the modern world, so that keeps me sharp"
"Since then I believe there have been two more iterations of My2KLife, and I'm so happy that this is a recurring feature of 2KTV. I think the video medium is most powerful when we use it to touch those basic human emotions that we all share, and this for sure made me believe we accomplished that.
"The last time I checked, 2KTV is still the only show of its kind built inside a video game. It's a totally unique experience for everyone and still stands out to me. When we have the ability to engage audiences with interactive questions and challenges, and have the show actually be a part of the game, it's a more organic viewing experience. When I edit, I'm thinking of the viewers all the time. Gamers are savvy and well-connected to the modern world, so that keeps me sharp as I try to pump out material that feels fresh."
"Streamers are everywhere now"
For anyone looking to break into the industry and work on game-related video editing, David notes that storytelling is key.
"Streamers are everywhere now, so a lot more people have some editing and shooting skills. It's become a core communication skill, and people are shooting/editing all day from their bedrooms! It's become so mainstream that it's impacted trends in video editing which I see everyday in mainstream content. However, while everyone can be creative, I think aesthetics and storytelling are still skills that we can hone, so an education in production, composition, and editing is quite important.
"In the end, we're catering to humans who want to be engaged. Sometimes it's difficult, when you're talking about more technical aspects of a game for example, but often there is a narrative that you want to tell. Other than that, keeping up with the trends, watching movies, playing games, and working well with your team is important.
"My team at 2K are all amazing professionals and people whom I trust. Each of them has their fingerprints on this endeavor, and I'm immensely proud of what we've accomplished and become over the past eight years."
Interested in joining David and the rest of the team at 2K? Check out all the open positions on the 2K Jobs page and follow 2K on LinkedIn and Twitter for updates.